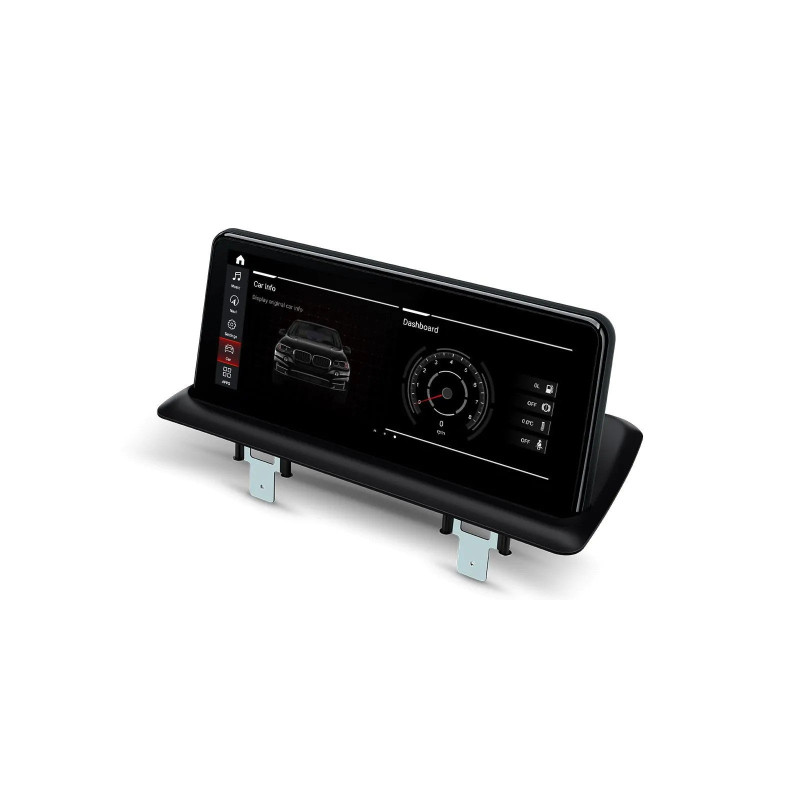  
Bluetooth OBD2 II Diagnostikos įrankis XTRONS
Su mokesčiais
Pristatymas nuo 4 iki 12 darbo dienų.
Prekės kaina mažesnė perkant kartu su XTRONS multimedija !
Šis OBD-II Diagnostikos prietaisas skirtas XTRONS multimedijoms, tai pat veikia ir su Adroid įrenginiais parsisiuntus programėlę.
•Funkcijos
· Kalaidų ištrynimas
· Skirta XTRONS multimedijoms
· Parametrų stebėjimas realiu laiku
· Jungiasi be laido Bluetooth ryšiu
· Veikia su dauguma autombobilių kurie turi OBD-II jungtį
· Išmatavimai: 48 x 25 x 32 mm
· Bluetooth slaptažodis: 1234
Saugumo politika
Pristatymo politika
Grąžinimo politika
Universalus Bluetooth OBD2 II automobilinis diagnostikos įrankis
Idealiai pritaikytas šiems XTRONS multimedijų modeliams:  PF75FSFAP-B, PF75FSFAP-S, PF75QSFAP-S, PF75QSFAP-B, PF7546BAP, PF7553BAP, PF7590BAP, PF75AA3AP, PF75AA4AP, PF75ATTAP, PF75AA3ARP, PF75AA4ARP, PF75ATTARP, PF75JCCAP, PF75FFFAP, PF7539BAP, PF75HGTAP, PF75MTWAP, PF85MTVAP, PF75M203AP, PF75M211AP, PF75M245AP, PF75M164AP, PL91MTVAP, PF75M209AP, PF75M220AP, PF75TRVAP, TL702AP, PF7581BAP, TL702AP, PF75AA3AR, PF75AA4AR, PF75AA3A, PF75AA4A, PF75ATTAR, PF75ATTA, PF7546BA, PF7553BA, PF7539BA, PF75QSFA-B, PF75QSFA-S, PF75FSFA-B, PF75FSFA-S, PF75FFFA, PF75OLOA-S, PF75OLOA-B, PF75OLOA-G, PF75M203A, PF75M211A, PF75M245A, PF75M209A, PF75M220A, PF75M164A, PF85MTVA, PF75MTWA, PF75HGTA, PF65HGTA, PF75TRVA, PF75JCCA, TD699A, TL109A, TD696AS,TD618AS, TD101AS, PF84MTVA, TD696ADS, TD703A, PF65WRJAP,PG7546BA, PG7590BA, PG7553BA, PG75M211A, PG75M203A, TD696A,PG75M245A,PG75AA4A, PG75AA3A, PG75ATTA,PF72AA3A, PF72AA4A, PF73AA3A, PF73AA3AR, PF73AA4A, PF73AA4AR, PF73ATTA, PF7146BA, PF7239BA, PF7246BA, PF7346BA, PF7353BA, PF7390BA, PF70FSFA-B, PF71FSFA-S, PF72FSFA-S, PF71FFFA, PF71OLOA-B, PF71OLOA-G, PF7M203A, PF7M211A, PF7M245A, PF7M164A, PF73AA4A, PF83MTVA, PF61HGTA, PF63HGTA, PF71JCCA,PF6BHGTA, PF7BOLOA-S, PF7BOLOA-B, PF7BOLOA-G, PF7BRVTA, PF8BMTVA, PF9BMTVA, TD702AB, TD626AB, TD695AB, TD626ABD,PCD70FSFA-B, PCD70FSFA-S, PCD71FSFA-B, PCD71FSFA-S, PCD61HGTA, PCD70MTWA, PCD71MTVA, PCD81MTVA, TL701A,TD629A, TD698A, PCD76MTVA, PCD76MTWA, PCD86MTVA, PL90SPKA, PL82MTVA, PCD76QSFA-B, PCD76QSFA-S, HD13A, PCD76TGVA, PCD66HGTA, PCD76FSFA-B, PCD76FSFA-S, PG7539BA, TCD761AL, PCD76RVTA, PCD86M3MA, PCD76OLOA-B, PCD76OLOA-S, PCD76OLOA-G, PB86MTVAP, PCD86CLTA, PCD86CMTA, PCD8AMTVA, PB96MTVAPL, PCD86CVHA, D719A, TL109AP, PB76MTWAP, PB76AA3AP, PB76AA4AP, PB76ATTAP, PB7639BAP, PB7653BAP, PB7646BAP, PB7690BAP, PB7681BA, PB76M211AP, PB76M245AP, PB76M209AP, PB76M164AP, PB76M203AP, PB76M220AP, PB76QSFAP-B, PB76FSFAP-S, PB76FSFAP-B, PB76FSFAP-S, PB76HGTAP, PB76TRVAP, PB7635HAP, PB76JCCAP, PB76FFFAP, PB65WRJAP,  PB76CYPAP,  PB76IBSAP, PB76OLOP-B, PB76OLOP-S, PB76OLOP-G, PB86UNVP, PB9653BPL, PB9646BPL, PL91MTVP, PA87MTVP, PA97MTVPL, PA77MTWP, PA77AA3P, PA77AA4P, PA77ATTP, PA7753BP, PA7739BP, PA7746BP, PA7790BP, PA7781BP, PA77M211P, PA77M245P, PA77M209P, PA77M164P, PA77M203P, PA77M220P, PA77QSFP-B, PA77QSFP-S, PA77FSFP-B, PA77FSFP-S, PA77HGTP, PA17GFVPL-LB, PA77OLOP-S, PA77OLOP-B, PA77OLOP-G, PA77DLRP, PE86M220PL, PE96M245PL, PE86M209PL, PE86M203PL, PE86M211PL, PE96MTVPL, PD9790BL, PD9746BL, PD97SPKL, PD97TGVL, DPA87UNVP, PCD7746B, PCD7753B, PCD7739B, PCD7781B, PCD7790B, PCD77MTW, PCD77FSF-B, PCD77FSF-S, PCD77MTV, PCD77TGV, PCD77M3M, PCD77RVT, PCD77QSF-B, PCD77QSF-S, PCD77OLO-B, PCD77OLO-S, PCD77OLO-G, PA77BYFP, PD9753BL, PCD67PTFL, PCD67HGT, PCD67SFHX, PCD87MTV, PCD87CVH, PCD87M3M, PCD87SZK, PCD87PST-RB, PE86JCCPL, PE9690BPL, PA77IBSP, PA7735HP, PA77DCRP, PA77GVSP, PS96MTVL, PS76MTV, PE98MTVPL, PE98M245PL, PE9890BPL, PE9846BPL, PE9853BPL, PE88M203PL, PE88M209PL, PE88M211PL, PE88M220PL, PE88JCCPL, PB7839BP, PB7890BP, PB7846BP, PB78AA4RP, PB78AA3RP, PB78ATTRP, PB78AA4P, PB78AA3P, PB78ATTP, PB78M164P, PB78M203P, PB78M209P, PB78M211P, PB78M245P, PB78MTWP, PB78JCCP, PB78TRVP, PB78HGTP, PB78QSFP-S, PB78QSFP-B, PB78FSFP-B, PB78FSFP-S, PB78CYPP, PB78OLOP-G, PB78OLOP-S, PB78OLOP-B, PB78DLRPL, PB68WRJP, PB88UNVP, PB88MTVP, D719AS, D771A, TB706APL, TB103AP, TB697P, TA701PL,TA695P, TA101P, TE103P, DTA707PL, TCD618, TCD771L, TE706PL, TE103AP, TE697P, TR704L, TR100, TS109L, TS702L.
Pastaba:  OBD2 programėlė gamykliškai būna įdiegta, tai pat galima parsisiųsti iš http://carmedia.lt
•Aprašymas:
The Mini Bluetooth OBDII scanner is an engine performance and diagnostics tool for both automotive enthusiasts and professionals. Paired with your Android smartphone or tablet, the Mini Bluetooth allows you to easily scan and clear engine codes, view and save real-time engine data and much more.
•Galimybės:
· Clear engine codes and check engine lights
· Connect to a Bluetooth enabled Android smartphone using one of the many free compatible apps
· View real-time vehicle data while driving
· Find and fix problems before they happen
· Connects wireless via Bluetooth up to 3 meters (no cable connection)
· Compatible with all OBD II compliant vehicles
· The latest Printed Circuit Board (PCB) and smallest module design
· Dimensions: 48 x 25 x 32 mm
· Bluetooth Pairing Password: 1234
•Palaikomi naujausi protokolai:
· SAE J1850 PWM (41.6 kbaud)
· SAE J1850 VPW (10.4 kbaud)
· ISO 9141-2 (5 baud init, 10.4 kbaud)
· ISO 14230-4 KWP (5 baud init, 10.4 kbaud)
· ISO 14230-4 KWP (fast init, 10.4 kbaud)
· ISO 15765-4 CAN (11 bit ID, 500 kbaud)
· ISO 15765-4 CAN (29 bit ID, 500 kbaud)
· ISO 15765-4 CAN (11 bit ID, 250 kbaud)
· ISO 15765-4 CAN (29 bit ID, 250 kbaud)
· SAE J1939
•Tinkamas šiems automobiliams:
For your vehicle to be OBD II compliant it must have a 16-pin DLC (Data Link Connector) under the dash and the Vehicle Emission Control Information Label must state that the vehicle is OBD II compliant.
Alfa Romeo / Audi / Bentley / BMW / Cadillac / Chevrolet / Chrysler / Citroen / Daewoo / Fiat / Ford / GM /Honda / Hyundai / Isuzu / Jaguar / Jeep / Kia / Land Rover / Lexus / Mazda / Mercury / Mini / Mitsubishi / Opel / Peugeot / Porsche / Renault / Rover / Saab / Seat / Skoda / Toyota / Vauxhall / Volvo / VW
•With the appropriate apps, perform the following operations:
· Read diagnostic trouble codes, both generic and manufacturer-specific, and display code descriptions with over 3000 universal code definitions in the database
· Clear trouble codes and check engine lights
· Display real-time sensor data, including:
· Engine RPM
· Coolant Temperature
· Calculated Load Value
· Fuel System Status
· MPH Speed
· Short Term Fuel Trim
· Long Term Fuel Trim
· Intake Manifold Pressure
· Timing Advance
· Intake Air Temperature
· Air Flow Rate
· Absolute Throttle Position
· Oxygen Sensor Voltages/Associated Short Term Fuel Trims
· Fuel System Status
· Fuel Pressure
•Pakuotėje:
1 x OBD scan tool